Rally Potlucks - planning for fun
Rally Potlucks - planning for fun
Paula W

Paula enjoys great adventures and experiences traveling with her husband and dog Cody in their 1964 Safari.


View all articles by Paula W
Planning a potluck
Having attended and fully enjoyed my experiences at airforums.com rallies, I thought I'd share some basic ideas and suggestions for participating in the highlight of any rally, the Potluck Brunch and the Grand Potluck usually held on Saturday of the weekend's event. I've hosted several potluck brunches at our 1964 Safari and found that involving others makes potlucks easy and fun.

Rally attendees who have an interest in volunteering to help with or host one of these meals can let the rally organizer know via Private Messa
ge or by posting on the rally discussion thread. Posting in the early stages of planning is particularly helpful.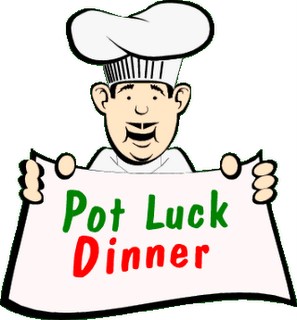 Spec
ify a time

you'd like guests to show up. I've found that mid-morning around 10ish is good for most for a brunch. This time allows ralliers who may have stayed up the previous night enjoying the late evening/early morning partying and having an all around good time, to sleep in a bit. This time will also give a reasonable amount of time for anyone bringing a dish to prepare it with out having to get up too early.

Menu choices

are generally wide open, but be sure to check with the rally organizer about special or theme menus. Usually just about
anything goes as far as what to bring, that is the essential definition of a potluck; the luck of the pot, everyone shares in the delectable delights and is pleasantly surprised to have a variety to dishes to try.
Plan on preparing a dish

that serves from 6-8 or more, for an event with 30 attendees.
Simplify your dish by doing as much prepara
tio
n
the day before and do last minute heating and serving just before the meal. Be a guest at your own party! Be mindful of perishable fo
ods and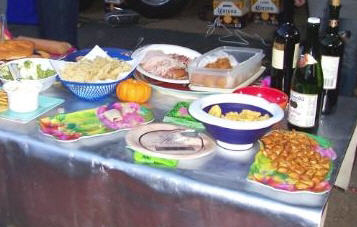 food storage and handling safety; eggs, bacon, sausage or even rainbow trout caught just in the river behind the campground all need to be prepared at the last minute and kept at safe temperatures. Consider making a small tent card to place beside your dish labeling the contents as vegetarian, dairy free or containing nuts and don't forget to bring a serving utensil.

Many organized potlucks

assume that members will bring their own dining ware, chairs and even drinks but be sure to let guests know in advance of this expectation. If you need tables for your meal try asking if anyone attending the rally has a folding table they can loan for the day.

Potlucks are a time-honored tradition for Airstream rallies and a great time to meet and get acquainted with others. Join in the Potluck fun!
Spread The Word