Paula W

Paula enjoys great adventures and experiences traveling with her husband and dog Cody in their 1964 Safari.


View all articles by Paula W
Curtains Up, Light the Lights!
Some of the best highlights of many of the rallies I've attended include the festivities of great food and drink, wonderful conversations, Airstream mini-workshops and of course touring the vintage as well as the more recent models of treasured
Airstreams
.
One of the most noteworthy highlights of a rally is often the musical entertainment that rounds out the evening that makes for a special and memorable treat. We've been treated by those who've brought their guitars, violins, keyboard, drums, harmonica, karaoke machine, beautiful singing voices, dancing, and even a kazoo or two to share in the fun. In the evening after a tasty potluck,
cozied
up in chairs around the campfire, the songs and music fill the campground and make for a very pleasant and enjoyable time.
Traveling with instruments requires a little forethought. Musical instruments need some TLC and shouldn't be subjected to high temps or humidity. The jostling of a road trip can also take a toll on instruments. Many folks choose to travel with a beach guitar; an instrument that may be less delicate then their daily player. Leaving an instrument in a black case in the full sun of a vehicle can be a recipe for disaster and so some thought should be given to where to store those bulky cases when traveling.
Jam etiquette at rallies varies with the players but in general all are welcome to participate and opportunities abound for teachable moments. Sharing a new song or playing tip can be a great way to get to know someone new. Get kids involved here and consider bringing along some rhythm instruments (or making them from materials available at the camp site). Standard etiquette for those bringing instruments to the jam is that your instrument should be tuned and if you don't know the song - try not to drown out those who do. Your turn to choose a song will come soon enough.
Sounds travels and it's important to remember that your idea of great music may be someone
else's
idea of noise pollution. Many parks has regulations about 'noise' and almost all have regs about amplified music. If you are unsure - be certain to check with the camp hosts.
Bring your musical instruments to the next rally and join in the fun.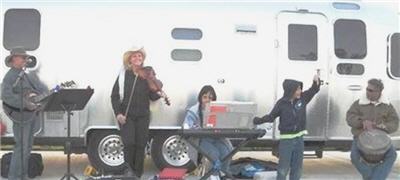 Spread The Word