Last week my wife and I were planning a trip with WBCCI #2240. We had a destination in mind which is about 35 miles away. It is a nice spot and we have camped there several times and like it. However when we got ready to go I realized I had a Board of Directors meeting, previously scheduled, so we talked it over and decided on a trip to a small lake 5 miles from home, that way on Thursday morning I would be able to drive back into town, attend the meeting and return to camp in time for a late lunch.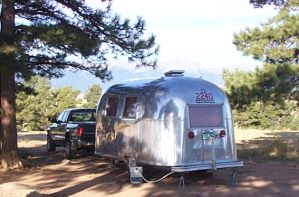 It turned out to be an absolutely wonderful 3 days. We just read, did some hiking around the lake and had some of our favorite camping foods. I will include a few pictures to whet your appetite for short trips and a desire to look closer to home. This is also a good way to save money in these tight economic times.

The spot we chose had no camping fee, (no services) but a fabulous view of the lake and surrounding mountains. We could see at least four 14'ers. (Colorado speak for mountains in excess of 14,000 ft. elevation).

Here we are parked under the shade of some ponderosa pines with a nice view of the lake and surrounding mountains.
Ours home town Silver Cliff is an old silver mining center with lots of History, we are lucky that way,. So we hooked up the trailer and drove 5 miles north of Silver Cliff, CO and located another favorite place to spend a few quiet days or hours very close to home. We could have driven 5 miles south and been at the base of the 14'ers mentioned above. I will probably cover a trip in that direction in a later article.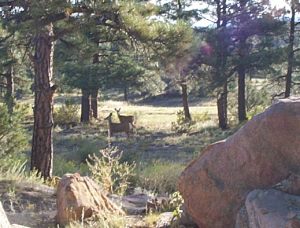 One evening we hiked about a half mile just below the dam and had the pleasure of seeing a couple of deer as well as some historic sights. We saw these deer several times on our hike. They were just outside our camper each morning.
When we got to Grape Creek, which feeds and drains the lake, we were able to hike on the old Grape Creek Narrow Gauge Railroad bed. If you allowed yourself you could almost hear the Chug Chug of the little engines pulling the ore cars down grade to Canon City, CO for processing of the Silver and Gold ore or pulling mining equipment up grade to the Silver Cliff mines.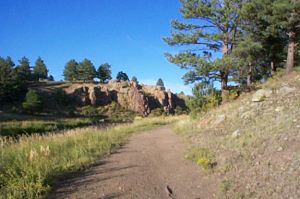 The deepest mine in Colorado is on the north edge of Silver Cliff and is about 2700 feet deep. Some ore veins produced as much as 1400 oz. of Silver per ton.
The original strike was in the form of Horn Silver, which is nearly pure and was on the surface of the (so called Silver Cliff for which the town was named). The railroad arrival actually spelled the demise of the Town of Silver Cliff as a prospering city. The railroaders stopped the tracks about a mile west of Silver Cliff and established a new city they named Westcliffe.



The two towns still exist and to this day there is a friendly? rivalry between the towns because so many businesses moved to be near the railhead leaving Silver Cliff a near Ghost Town.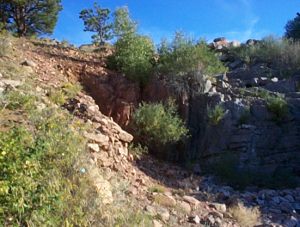 Here, you can see the entrance to one of the mines right beside the old track bed. This mine was short lived as the vein was very narrow and petered out shortly after it was opened. There were several mines near the town of Dora, which was flooded by the DeWeese Dam and lake. This dam and lake have become a significant storage facility of irrigation water used on extensive fruit and vegetable farms at Canon City which is about 40 miles down stream.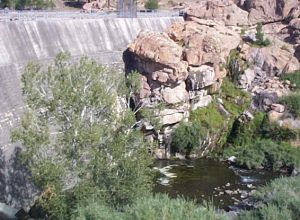 This is a picture of the dam which is located in a narrow portion of the Grape Creek canyon. Fishing is quite good along the creek as well as in the lake. The lake covers about 200 acres and is about 60 deep at the dam. It is well stocked with trout, a few bass and keeps local anglers entertained year round. I especially like to ice fish here in the winter.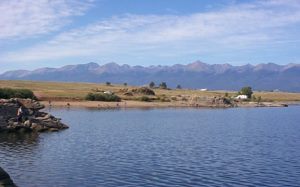 Here you can see the lake above the dam and the Sangre de Cristo mountain range in the distance. There are four 14er's in this picture, if you know where to look. Zebulon Pike camped near this spot in the early 1800's while mapping part of the Louisiana Purchase and locating a route to Santa Fe, NM.



This will wind up this little excursion which reintroduced my wife and me to the wonders which are so close to home. I hope you will look at the possibilities close to your home town. There may be much more than you might first imagine. Our next excursion is planed for a trip to Crestone, CO. It is only 22 miles away by GPS but we will have to drive about 90 miles around the north end of the Sangre de Cristo to get there. Crestone is just on the other side of the mountains in the distance in the picture to the right.
Have fun exploring the wilderness just around the corner.

Don Bishop
WBCCI #2240